Giving Back
At FAB&T we believe that employees who enjoy their workplace are equipped to make their communities better. And as we enter our seventh decade of serving customers — from rural towns to our state's capital city — we still focus on the traditional, community-first values established in 1949 by founder Kenneth Pat Wilson.
We have been recognized multiple times as a Best Places to Work winner by
Arkansas Business.
The United States Department of Defense,
Forbes
and The Institute for Extraordinary Banking all agree FAB&T is one of the best banks in America.
Our Core Values:
•Be Respectful
•Follow the Do-Right Rule
•Follow Through on our Commitments
•Hold Each Other Accountable
•Make It Fun

These principles are adhered to inside the walls of our bank, and as we step out into the communities we serve as we live out our mission statement: "A team that supports each other and commits each day to do right by our customers and our community."
Who We Are 

FAB&T is proud of our history as a locally-owned and managed institution. We also believe that respect for our history shouldn't keep us stuck in the past.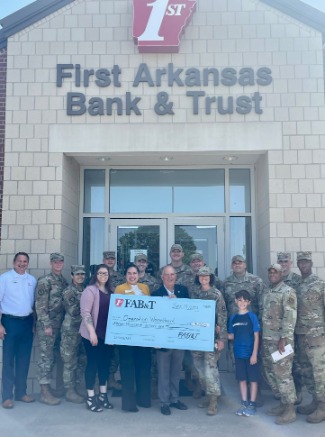 Growing alongside the communities we serve includes expanding our service offerings in new and innovative ways. We believe in classic customer service delivered with cutting-edge technology.

In addition to traditional deposit and loan services, our institution offers wealth management and trust services, and a credit card division located in Atlanta, Ga. FAB&T employs approximately 300 people between all Arkansas branches/departments and the credit card division.

It's our people who make the difference; and not simply during normal business hours or within the branch. We are community leaders, public officials, volunteer first responders, little league coaches and more.
Invested in Central Arkansas 

Total, we spend about 3,000 hours annually — an average of more than eight hours per day — participating in hands-on volunteer and community service efforts.
In 2022
, as a company, we supported
nearly 100 different organizations and
 contributed
over $150,000 total
in monetary and in-kind donations. The most notable community service organizations we worked with include
Toad Suck Daze, Ronald McDonald House Charities, the 3 Degree Guarantee, and the Reading Roadtrip, both in conjunction with THV11 in Little Rock.